Online Seminar
"How to Write an Interesting and Best-selling Textbook"
by admin | September 6th, 2020
FPIK, SEMARANG – One of the challenges of the profession as a lecturer is to provide quality books or textbooks for students. Apart from being good and interesting in writing textbooks, becoming a best seller is the dream of every lecturer. So that it is hoped that the textbook can be enjoyed by students from all over Indonesia. So, how do you write an interesting textbook that even becomes a best seller among academics and students?
The Department of Aquaculture, Faculty of Fisheries and Marine Science (FPIK) presents an online seminar "How to write an interesting and best-selling textbook". This activity is a form of implementation of the 4th Sustainable Development Goals (SDGs) on "Quality Education" to encourage lecturers to write quality, interesting textbooks that can even become best sellers in their respective fields. This seminar will be held on:
Saturday, September 12th, 2020 | 09.00 WIB – finished
Online via Zoom Meeting and Live Streaming on YouTube Official FPIK UNDIP (bit.ly/officialfpikundip)
Interviewees
Fandy Tjiptono, B.Ec, M.Comm. Ph.D who is the author of marketing textbooks. His works have been used and cited by thousands of people, even one of his first books has been cited more than twelve thousand times (according to Google scholar).
Moderator
Tita Elfitasari, SPi, MSc, PhD (Lecturer at the Department of Aquaculture, FPIK UNDIP).
Introduction
Prof. Ir. Tri Winarni Agustini, MSc, Ph.D (Dean of FPIK UNDIP).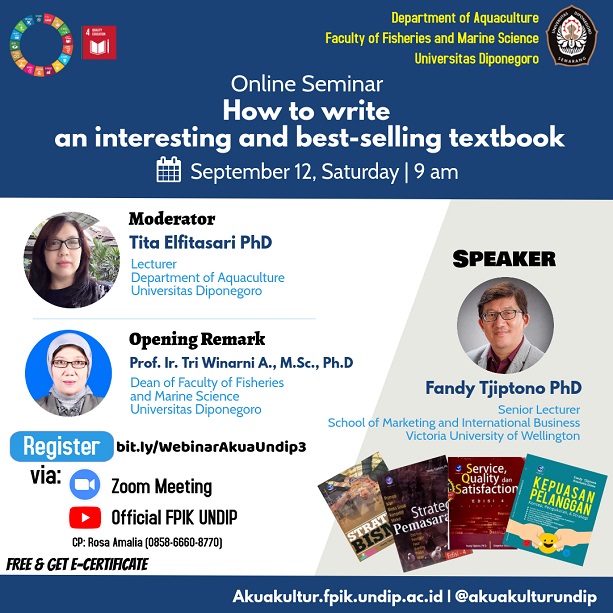 Get this valuable knowledge directly from the expert. Register immediately via bit.ly/WebinarAkuaUndip3.
Get the material and e-certificate, it's free.