Online Seminar of Aquaculture Department
by admin | August 24th, 2020
FPIK, SEMARANG – Online seminar of the Aquaculture Department. Becoming an entrepreneur is one of the options that many people are interested in, especially the millennial generation, because it can give freedom to innovate and create products of interest.
Successful entrepreneurs have the ability to win their products in the market and to achieve this, an entrepreneur needs a strategy in branding and marketing their products. One of the challenges in the world of fisheries entrepreneurship is creating a unique and attractive brand. This includes studying a suitable marketing strategy so that you get a high enough market demand.
The Diponegoro University Aquaculture Department presents an online seminar with the title "Branding and marketing of micro and small scale business: A case in the aquaculture and fisheries industry" at:
Saturday, September 5, 2020 | 09.00 WIB
Conducted online through zoom meetings and live streaming via YouTube Official FPIK UNDIP (bit.ly/officialfpikundip)
Interviewees:
Fandy Tjiptono, B.Ec, M.Comm, Ph.D (Branding & Marketing Expert, Marketing textbook Author and Lecturer at Victoria School of Business, Victoria University of Wellington, New Zealand)
Moderator:
Tita Elfitasari, S.Pi, M.Sc., Ph.D (Lecturer at the Department of Aquaculture, FPIK UNDIP)
Introduction:
Prof. Ir. Tri Winarni Agustini, M.Sc., Ph.D (Dean of FPIK UNDIP)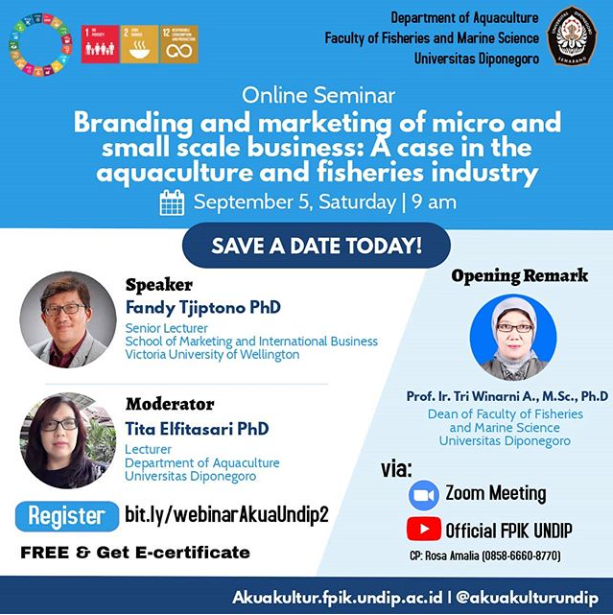 Get knowledge from marketing experts whose books have been used by thousands of people in Indonesia and abroad. Immediately register via bit.ly/webinarAkuaUndip2 and get the knowledge and e-certificate!